Tess Zardus - Lead Vocals, Support Vocals, Bass Guitar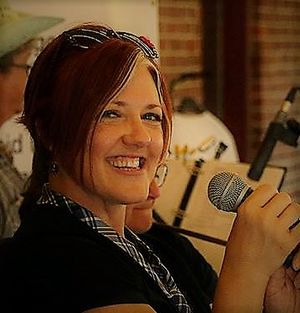 Tess Zardus had a musical interest from a very young age writing poetry and lyrics as early as grade school and starting with her first instrument, the violin when she was 8 years old.  After her family relocated, she had the opportunity to learn a new instrument and began taking clarinet lessons. She then worked with her band instructor to learn another instrument - the trumpet.  Throughout her schooling, Tess included many forms of music in her everyday activities; she performed in school musicals, private singing groups, local town venues, and during high school she added her next instrument, the baritone.  
She went on to study music performance with an emphasis in vocal performance at Hastings College in Hastings, Nebraska and played with the NECC Jazz Band tour in the Midwest, where she worked on trumpet improvisation, keyboard, and vocals. She continued to perform in the Midwest until relocating to South Florida at which time she took a 10-year hiatus from her musical career. 
In 2004, she relocated to Maine, where she fell in love with a beautiful historic river town called Hallowell.  She grew fond of the local music and art scene, frequenting the local venues and listening to the many talented musicians in the area.  It wasn't until 2007, when a local musician said, "Hey, you're a musician aren't you?" and then later, was asked to sing during local open mic nights, inspiring a wave of rekindled musicality that was left behind for more than 10 years.  In 2009, Tess joined Val Bennett as a member of The Over EZ Band - an all-girl band performing throughout Maine in such venues as The Center Theater of Dover-Foxcroft, Festivals, and local clubs.  She also took up bass playing with teachings from a local Maine musician, Dave Thibodeau.  As a member of The Plaid Dragonflies Duo, Tess has co-written and co-produced their first CD titled The Plaid Dragonflies.  With her diverse vocal range and creative imagination, Tess adds a harmonious layer to the duo's original music.